SOAR: Early Childhood Education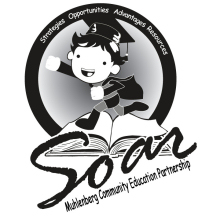 The Foundation has recognized the critical need for early childhood education by committing over $1.3 million to date in support of programs across Muhlenberg County which strive to help each child arrive at kindergarten ready to learn.  In 2011, the Board of the Felix E. Martin Jr. Foundation created an early education program called SOAR:  Strategies, Opportunities, Advantages & Resources. Since that time, SOAR has been lead by Program Manager Vicki Yonts, and has implemented many County-wide educational programs for children, some of which are highlighted below.  Based on research showing a dramatic correlation between the number of books in the home and future academic achievement, the Foundation has placed a special emphasis on literacy, and has given away over 150,000 books to children in Muhlenberg County.  
SOAR introduced the Ready! for Kindergarten program in Muhlenberg County in January 2014.  The program is available at no charge to all  families who have a child starting kindergarten in Muhlenberg in the fall.  Each family will attend three classes which teach age-appropriate targets to the parents and caregivers of pre-school children.  The families receive learning toys and tools at each session.  Along with these toys, the families are taught about  desired learning goals and how to "play with a purpose." The Ready! for     Kindergarten program has been implemented across the country and has demonstrated excellent results for ensuring children begin kindergarten ready to soar!
Reading programs play a key role in SOAR's mission to increase literacy skills across Muhlenberg County.  The Books 'n Cream summer reading program provides a weekly reading event for families.  Participating children receive a free book and a coupon for ice cream every week after reading the featured book of the week.  Each summer ends with a celebration of reading with free books, ice cream, games and special giveaways.  All year long, SOAR partners with the local library to support the READ 15 initiative, encouragaing parents to read aloud with their children at least 15 minutes each day.
SOAR has also partnered with Head Start for early literacy training for all parents and provided materials, curriculum and training for Head Start, pre-school and daycares throughout Muhlenberg County.  SOAR also brought "Reach Out and Read" to the County, with books distributed by pediatricians at all well-baby visits; developed "Read to Me" New Baby Packets for the hospital to give to all new parents; distributed Kindergarten Readiness backpacks annually to each County child in the year before they start kindergarten; started the "Pathway to Reading" program for parents and children at Pathway of Hope Center, and has placed community bookshelves throughout the County in waiting rooms. Much more is planned as this important program helps children arrive at kindergarten ready to learn. 
Click the following link to download the kindergarten readiness camp application for summer 2019: Kindergarten Camp Registration 2019.pdf
Dolly Parton Imagination Library 
The Foundation continues to partner with the Muhlenberg County Public Libraries to bring Dolly Parton's Imagination Library to the children of Muhlenberg County.  Since 2009, the Imagination Library program has distributed over 85,000 books to Muhlenberg County children under 5 years old.  Each month, registered children receive a brand new, age-appropriate book in the mail at no cost to the child or his/her family, creating a home library of up to 60 books for children who are registered at birth.  The books instill a love of books and reading from the start of a child's life, and guarantee that every child will have books, regardless of their family's income.   
Innovation in Schools 
The Foundation continues to partner with Muhlenberg County Schools to provide extra-curricular educational opportunities and tools for students.  In one example, the Foundation provided $160,000 over 3 years to support the iRead Summer Camp at local elementary schools.  This free camp was made available for incoming 1st through 3rd graders who read below grade level.  Teachers transformed their classrooms into campsites including camp fire reading circles, fishing ponds, forests and tents doubling as reading nooks. The iRead Camp gave students extra help with reading and provided specialized tools in the Apple technology products to make reading fun.  Up to 200 campers attended the three week camp hosted by certified teachers at three County elementary schools.    
Kindergarten teachers also partner with the Foundation to provide K-Day, a day for students about to start kindergarten to become familiar with their new  schools.  Children are invited to tour their classrooms, meet their teachers, eat lunch in the cafeteria, and even ride the bus—eliminating much of the fear of the first day, and allowing students to start school excited and ready to learn.
Realizing that students must be prepared with 21st century skills to succeed in today's world, the Foundation provided a $200,000 matching grant to the Muhlenberg County School District, allowing them to invest more than half a million dollars in technology to give every student access to an Apple iPod Touch, iPad or MacBook.  
For more detailed information on programs offered through SOAR, please download the Foundation's 2016 Report to the Community which focuses on the impact of SOAR and programs offered in 2015-2016.