Foundation gives $250,000 Grant for Development of LuRay Park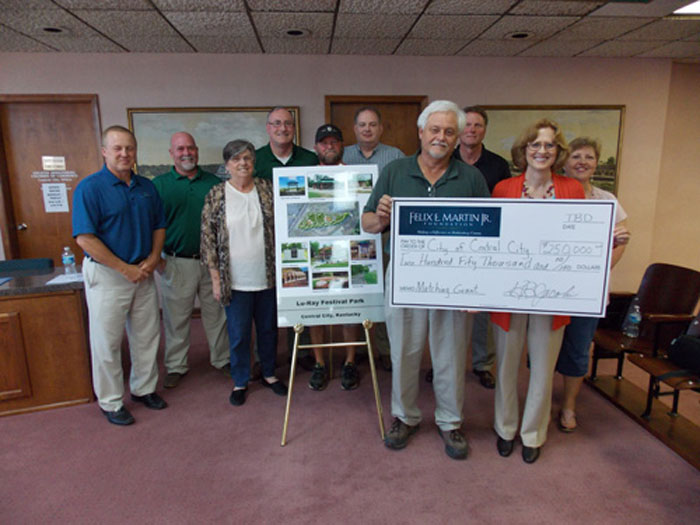 CENTRAL CITY, Ky. (6/12/14) - Article courtesy of Paul McRee, SurfKY News — The Central City council received a welcome visit during its Wednesday, June 11 meeting at the Central City building.
Kathy Jacobi, president of the Felix E. Martin Jr. Foundation, was on hand to present the city with a check for $250,000 to go toward the construction of the Lu-Ray Park in downtown Central City.
The project, first announced by Mayor Barry Shaver in April, would be on a three acre lot just off Broad Street, behind the First National Bank. The total cost of the project is estimated at $1 million.
The park is named in honor of the historic Lu-Ray Hotel, which was built in 1912 and was a major stopping point for travelers and workers before being razed in the late 1970s.
Addressing the meeting, Jacobi explained that the agreement was reached after a presentation made by city officials to the board.
"We met earlier this spring and talked about the plans the city has for the new Lu-Ray Park," Jacobi said. "I took the information from that meeting to the foundation board in May. I'd like to read you their grant agreement. 'The foundation's grant for this project reflects their confidence in your leadership in the project.' The agreement is from June 1, 2014 through December 31, 2018. This grant will provide matching funds for the first $250,000 raised by the city of Central City to be used for the construction of Lu-Ray Park. The park will be located in downtown Central City, and will include an amphitheater, restrooms, a picnic pavilion and walking trail."
Members of the council applauded as Mayor Barry Shaver accepted the ceremonial check from Jacobi. Shaver told SurfKY News that the city council is excited about the grant.
"This is really a dream come true," Shaver said. "If we can get enough people on board, this grant will allow us to break ground on the park before the end of this year. We are already working on several aspects of raising more funds. This will be an exciting project, not just for Central City, but for all of Muhlenberg County. This is exactly what we need for our downtown events. This particular location, in the heart of the downtown area, will allow us to tie our history with our future. This can be our gift to the next generation and beyond."
Shaver said that the project will be completed in phases, with phase one consisting of a large state-of-the-art amphitheater, lighting system and sound system.
"We already have several individuals who want to help take care of the expense of the park's veterans memorial. People are stepping up to lead the way on this project, and we want to thank them, and also thank everyone with the Martin Foundation."