Felix E. Martin Jr. Foundation Awards Fall Grants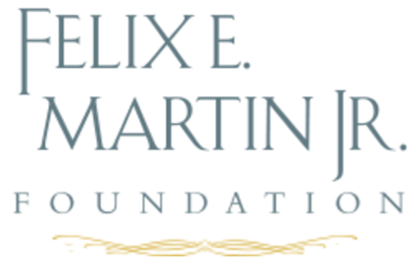 The Board of Directors of the Felix E. Martin Jr. Foundation recently held their fall meeting, acting on several charitable grants.  The first grant decisions were announced at the Muhlenberg County School Board meeting on Thursday, October 16. 
Between May 2009 and May 2012, the Foundation awarded $2 million in grants to the Muhlenberg County Board of Education to be used to support the construction of Felix E. Martin Jr. Hall and the Tech Wing at Muhlenberg County High School.  Annual grant payments of these awards were scheduled through June 2016.  In light of recent cash flow needs within the school system, the Foundation approved early payment of all remaining grant funding from these earlier grants.  To this end, Kathy Jacobi, President of the Foundation, presented a $900,000 check to the Board of Education at their meeting on October 16, 2014.    Ms. Jacobi said, "We hope that these payments will help alleviate some of the short-term pressure faced by the school district so that the success of our students can be everyone's top priority."
The Foundation's Board also announced an additional grant at the School Board meeting, offering to reimburse the Muhlenberg County Board of Education for all electric, sewer and water bills accumulated by the new Muhlenberg County Park facility through June 2015.  Acknowledging the importance of the new park to both the school system and the community, the Foundation hopes to alleviate any financial strain during the park's first year of operations.   
At the fall meeting of the Foundation's Board of Directors, an additional $217,601 was awarded to nonprofit organizations, schools, and municipalities serving Muhlenberg County. 
The Foundation awarded $153,000 to support the SOAR early childhood education program in 2014-2015.  SOAR is a Foundation managed program which seeks to provide education and opportunities for the youngest Muhlenberg County residents.  Program Manager, Vicki Yonts said, "SOAR is thrilled to be able to continue to support and expand programs that we have started in Muhlenberg County as well as offering several new programs this year.  Our goal is to make sure every child in Muhlenberg County is well prepared and ready to start kindergarten."  In 2014-2015, SOAR has significantly expanded the Ready! for Kindergarten program, making it available to families of all children starting kindergarten in the fall of 2015.   SOAR will also continue to offer programs including the Reach Out and Read program through local pediatricians, the Books 'n' Cream summer reading program, and K-Day kindergarten camps as well as distributing books and information at community events throughout the year.   SOAR provides financial support for Muhlenberg County Head Start & day care programs in the form of training, tools, and curriculum for those programs.
The Foundation's Community Grants Program awarded over $60,000 to programs supporting the County.  Several of the grants will benefit Muhlenberg County students and their families.   Recipients include the Greenville Volunteer Fire Department which will continue to host their fire safety education program for grades K-2 in Muhlenberg County Elementary Schools.  The Foundation also gave support to Happy Feet Equals Learning Feet.  For the 2nd year, this organization is raising funds to supply new, well-fitting shoes to students who demonstrate need.  Additionally, each of the Family Resource Youth Service Centers (FRYSCs) located in the Muhlenberg County Schools was also awarded a grant to support their operations in 2014-2015. 
The City of Greenville was awarded a grant to help provide matching funds for a larger state grant application to improve sidewalks and correct safety issues on a section of West Main Street.  Muhlenberg County Emergency Services was also awarded a grant to maintain their access to satellite radio and telephone services in the event of an emergency.
Madisonville Community College was awarded two grants to benefit the ACE2 Adult Education Center.  The first grant will fund the renewal of the online computer skills training course which is available to all citizens of Muhlenberg County.  The course has a variety of components and covers basic computer skills as well as how to use common software programs, such as Microsoft Word and Excel.  A key component of the training course will teach the computer skills necessary for the new online GED tests.  A second grant will allow for the purchase of the required equipment to establish an approved GED testing location in Muhlenberg County, at the ACE2 Adult Education Center.  This grant will significantly improve access for those seeking a GED.
The Foundation expects to award up to $200,000 as part of the Community Grant Program during 2014-2015.  Community Grant applications are accepted throughout the year and reviewed quarterly, with all grant decisions being finalized by June 2015.  The next two deadlines for consideration of Community Grant applications are November 3, 2014 & February 9, 2015. 
The Foundation is always happy to answer questions about grants made or projects that are being proposed for the benefit of Muhlenberg County.  For questions, please contact Alyssa Manning, Program Officer, at (270) 977-9194.